Blazemark is an application designed to protect lives and property in the face of emergencies. As a pre-incident planning tool adhering to the NFPA-1620 specs, Blazemark provides easy-to-use preplanning to fire departments, police departments, schools, universities, manufacturers (from big pharma to oil refineries to household products), and safety task forces. Blazemark is an industrial-strength, web-based preplanning software package that integrates drawings, photos, hazmat, and key building information into an easy-to-use, open standards-based, scalable software application.
Blazemark is flexible enough to be run on laptops and mobile devices, yet is scalable to support enterprise-level needs of large organizations.
Intuitive, Easy to Use
Navigate to individual structures
 Easily move between the Preplan Overview and the Structures. As you move from structure to structure, the selected tab positions are maintained, allowing you to quickly look at hazmats across all structures.
Single-touch Navigation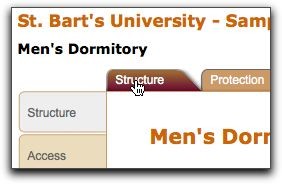 Quickly find the information you are looking for. Click on a Category Tab across the top, see the Detail Tabs down the left side change. Click on a Detail Tab and see the appropriate information.
In-place editing
 Editing the data is as easy as doing email. Navigate to the Category and Detail tabs, and Add or Edit to bring up an intuitive, in-place editing form.
Flexibility
Preplans and Structures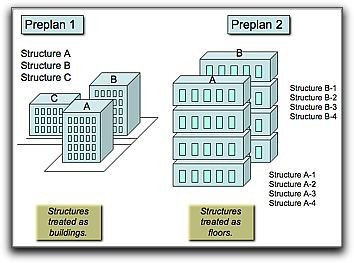 You can create preplans many different ways to suit the complexity of your needs:
One preplan per structure,
Multiple structures per preplan
One or more floors as a structure
Organizations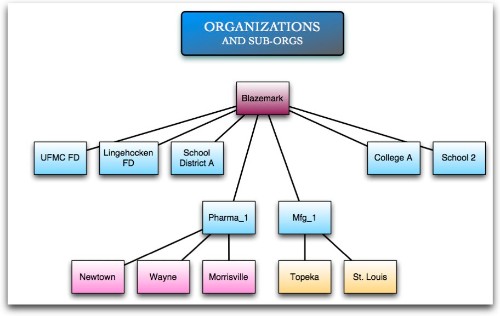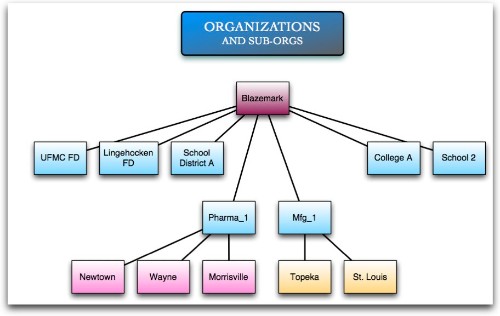 The Organization is the "owner" of the preplan. Typically a fire/police department, a municipality, school district, university, a manufacturing facility, etc.
The Organization can have one or more groups of users, depending on the size of the organization.
Each organization will have many preplans under their jurisdiction.
Users and Groups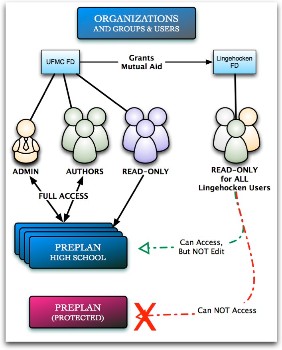 Once an organization signs up to use Blazemark, they are able to maintain their own group of users. The designated Group Admin(s) can administer the sign-up/registration process, and can control the user roles.
Some users have full authorship ability, while others are read-only.