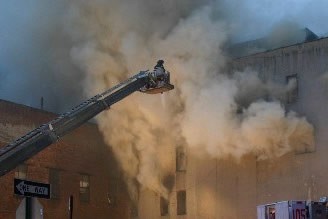 On this page, you'll find links to resources pertaining to emergency response and preplanning.Our goal is to collect the most useful and relevant industry links available.If you find a link that you feel should be here, please contact us.

by Greg Jakubowski
CD available from Fire Protection Publications
by Greg Jakubowski
Book available from Fire Protection Publications. Sold more than 15,000 copies, required reading for Chief's tests in some cities.
Simulation Software
Please visit their website: CommandSim for more information.
SafeTask™ is CSM's exclusive, comprehensive safety management system. Frontline crews and managers all over North America are using it to achieve low accident rates, eliminate risk hardening and sustain exemplary safety performance.
New York City building industry professionals begin a formal organization of people interested in learning more about BIM (Building Information Models), a powerful new software tool set that radically alters business processes.
Now Available On-Line At No Charge!
FM Global's Data Sheets that provide guidelines for protection of many different hazards, as well as sprinkler and other fire suppression system information
Article by Greg Jakubowski
www.techsoup.org
Includes lodging and some meals!
For more information or to register please go to www.firewisecampus.org or contact Paul Martin, Vice-President, The Center for Campus Fire Safety at pmartin@campusfire.org
1 Page Training on a variety of technical fire protection topics
Good investigations of firefighter fatalities and serious injuries including recommendations to prevent them – many include the recommendation: conduct pre-incident planning and inspections of buildings within their jurisdictions to facilitate development of safe fire ground strategies and tactics.
Downloadable Textbook and Training Resources – Free from the Propane Education and Resource Council
NFPA, National Propane Gas Association (NPGA), and the Propane Education and Research Council (PERC) have issued a Fire Safety Analysis Manual, which provides forms and a step-by-step method for completing a written Fire Safety Analysis (FSA) as required in NFPA 58, Liquefied Petroleum Gas Code.
Tool for Investigators – to be used immediately following a fire in a sprinklered building.
Website and resources dedicated to assisting emergency services organizations with winning grants.
Website with tons of close call and other resources focused on emergency responder safety
Resources from the US Fire Administration
Resources all about ISO, community and building ratings, and tools for fire departments to learn more about and improve their rating
Pennsylvania State Fire Commissioner's office – state training resources, grants
Grants can be utilized for preplanning
Topic Webpage
Topic Webpage
Resources for students and their families