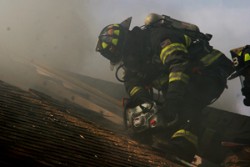 Blazemark is an intuitive, modern Web Application that you use to develop, deploy, and share pre planning.  With just a simple web browser, you enter information/media about sites, buildings, structures, protection, water supplies, hazmats, etc. You can also produce a printable & portable PDF document for hard-copy storage and offline use as needed. Our modern solution permits Blazemark to custom-interconnect with many existing systems and industry initiatives.
Using the pre plans en route and on-scene couldn't be easier. Responders, building personnel, and other agencies can easily find the available preplans and quickly grasp the operations and hazards of the building or site.  This clear "picture" is provided through a combination of intentional filtering of vital information: photographs, maps, drawings, etc., including real-time traffic and building webcams. As a Web App, Blazemark allows simultaneous, multi-user access across the community, region or across the globe with a robust, highly secure, protected server.
Did you know that at least one North American fire department has been held liable for millions of dollars for failing to preplan a structure?
The primary benefit of using well established, up-to-date, preplans is that fire officers will have an accurate framework within which to operate.
Having good preplans allow you to:
Develop an incident action plan
Communicate with incoming units
Ensure/maximize first responder safety
Increase fire company effectiveness
Frameworks can remove many "what ifs" from your organization's strategy and tactical decision making processes. As a result, your local fire company will not pull into an incident "blind." Our preplanning system meets the National Fire Academy standards for Incident Command (ICS) and the concepts within the National Incident Management System (NIMS). Using Blazemark allows you to adhere to NFPA 1620, "Standard for Pre Incident Planning".